We offer open enrollment in our tumbling classes year-round!
But, spots are limited and fill quickly so register now! Fill out your registration form and log in to your parent portal to browse through available classes. Don't see what you're looking for? Email kristin@swlatc.com and we will get you taken care of today! 😉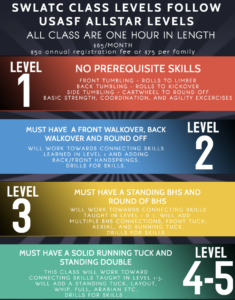 Please wear athletic clothes and shoes that easily come off and on. Older tumblers have the option to wear CLEAN athletic tennis shoes to their tumbling class.
We are an Allstar gym so class curriculums are based on USASF levels. The curriculum is progressive so each skill set is an extension of the one learned before. All skills taught need to be mastered before moving on to the subsequent level.