These classes are led by our Preschool director, Halie Wright David. Halie has a degree in Early Childhood Education and has been with the SWLATC family for 6 years.
 Cost: $65 per month +registration fee($50 per student or $75 per family)
Please wear athletic clothes and shoes that easily come off and on. 
Tumble Bears Beginner tumbling
This all NEW program is designed specifically for our "baby bears". Our brand new curriculum focuses on gross motor and fine motor movement skills. Through tumbling circuits and direct instruction, students will improve on coordination, strength, balance, flexibility and body control all while having a blast! Students will also learn important life skills such as taking turns and following instructions.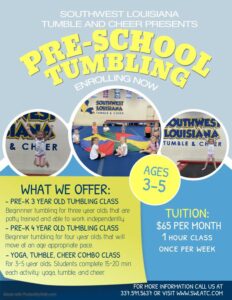 This class is designed for three year olds who are potty trained and able to work independently.
This class is based off of the same preschool curriculum, but will move at an age appropriate pace.
Targeted tumbling skills are forward rolls, straddle rolls, backward rolls, handstands, cartwheels, bridge up and various strengthening positions.
**All SWLATC curriculums are progressive so students will move on to the next level skills as soon as beginner skills are mastered.
3)Yoga/Tumble/Cheer ages 3-5
This brand new, combo class is sure to be a hit for the littles! This class will run in sections so that the students completes 15-20 minutes of each activity.  The yoga portion of the class will be geared toward strength and flexibility. The tumble portion of the class will ensure that your child gets instruction on basic tumbling skills. And then classes will end with a cheerleading development course that will focus on motions and cheer jumps. What child would not love this action packed, fun class!?