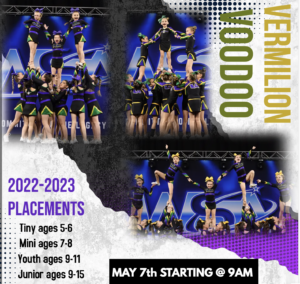 THE LOUISIANA VOODOO ALL-STAR PROGRAM is a collection of all-star cheer teams that range from ages 4 to 15 years of age and for athletes of all levels.
The VooDoo Program offers THREE types of All-Star Cheer Teams; "SHOW/NOVICE Teams", "PREP Competitive Teams" and "ELITE Competitive Teams".  This Family of Teams is an awesome opportunity for young students to experience the sport of All-star Cheerleading through different tiers of time and financial commitments!
Beyond all-star cheer, we value the opportunity to mold our young athletes for the future. Competitive cheerleading at an early age teaches life lessons such as commitment, dependability, selflessness, hard work, accountability, the ability to work well with others and many more life skills that will benefit these athletes far beyond the cheer floor.  We believe that this experience will help our athletes to be more successful students, productive employees and overall better teammates to all their future "teams" in life.
Email kristin@swlatc.com for more information on how to help your child become the best cheerleader he/she can be!
***LET US KNOW YOU'RE COMING TO TRYOUTS FOR 2022-2023:
https://docs.google.com/forms/d/e/1FAIpQLSe4ajNNtg2PwS6_gb1DXQgi1SZhKujpecy5Nbpkvnmd4T1-1A/viewform?usp=sf_link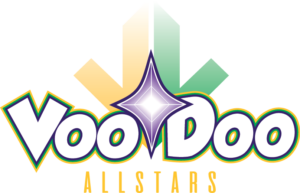 2022-2023 All Teams Informational Packet Handbook-IN PROGRESS:

https://docs.google.com/document/d/1ovXkT5YHuuaVpnwg25qkObcotHQ8IkR3CuICo74SYBQ/edit?usp=sharing
Half Year Showteam Quick Guide 2022:
https://docs.google.com/document/d/1JTwNKX2fBz7dogW6_UcbaCIX3kCDO86TtuINagPJIgU/edit?usp=sharing
Prep Allstars Quick Guide 2022-2023:
https://docs.google.com/document/d/1AvkNGOjCxx4dvYBae9j-DJblnUVnXkc8h42zoB7hDdo/edit?usp=sharing
Elite Allstars Quick Guide 2022-2023:
https://docs.google.com/document/d/1emAmuIdYQNHX-BlFtIajnJf0ZLYSRg0pUKU3BKIh3b0/edit?usp=sharing
All  Team Financial & Time agreement 2022-2023:
https://docs.google.com/forms/d/e/1FAIpQLSdSadfjEfah5dk3ttDmcsbgSckjWJN0N3SSoKpM5NYChQhg9g/viewform?usp=sf_link
Fill out Allstar Directory 2022-2023:
https://docs.google.com/forms/d/e/1FAIpQLScpiNv5xwbrgTyNPhso91VJXHGmHEQjHCkC26cIaOXQoPXQ0g/viewform?usp=sf_link